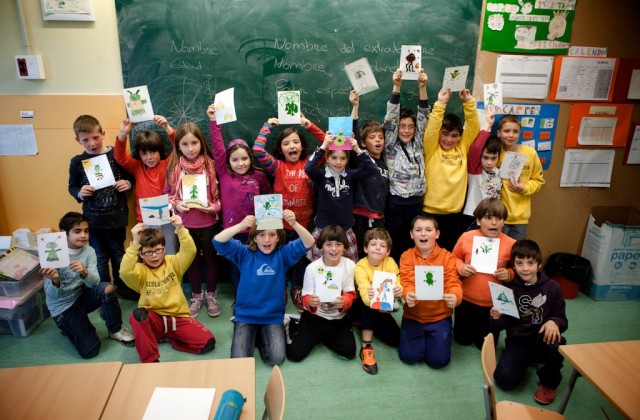 Kids in Spain find that Collaborative Art Works
In March 2012, we were excited to visit Can Coll's primary school to facilitate a full week of Cre8's signature collaborative workshops designed to access and develop creativity. Conducting five art workshops and a final exhibition with more than 100 pupils, this week full of imagination and exploration showed kids, parents and the community at large how art can be used to teach people about themselves and the world around them.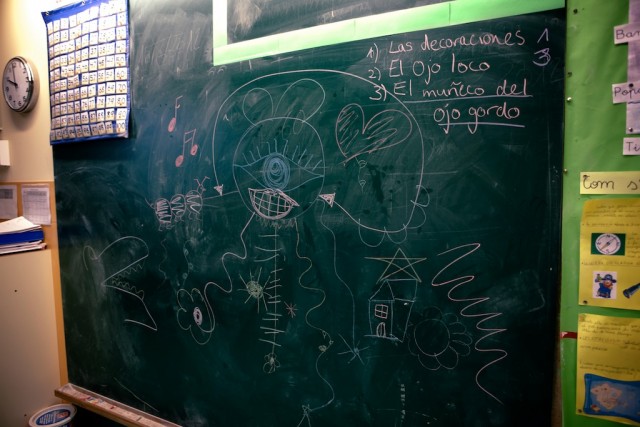 Day 1: Ping Pong Painting
Our creative school odyssey started by doing Ping-Pong Paintings with the schools 1st and 2nd grade classes. Together with volunteer Mauro Smyth and film maker Jose Saenz, two of our core team members Marta Bruyel and Nada Schroer were welcomed by excited students and curious teachers. The concept of Ping Pong is based on a simple but powerful method: "you draw a line on paper and then I draw the next." This signature collaborative process simultaneously encourages individual creativity and cooperation between students. Art supplies of many colors were spread throughout the class room and the pupil's desks were transformed into "Ping-Pong" tables. After short instruction on the blackboard, many A3 papers were filled with colorful shapes, patterns, plants, animals and monsters- all created together: line by line.
Day 2: The Most Realistic Alien
The second day was all about the alien invasion which often occurs when Cre8 foundation and kids come together. We asked Can Coll's 3rd and 4th graders to draw the most realistic alien they could imagine. By participating in Cre8's intergalactic mission to unite all "Most Realistic Alien" drawings from kids all over the world, we used the art from kids in Can Coll to create an intercultural art piece. "Lufi", "Eráculo" and "Porcupain" were just a few examples of over 40 powerful aliens that the kids added to our international M.R.A collection.
Day 3 and 4: Photo Rally
On the third day it was up to Can Coll's oldest students to show us their skills with the camera. Professional photographer Gustavo Osorio introduced a group of five teens from 6th grade to the basic photography tricks and explained the 11 tasks of Photo Rally. By noon, the group was busy exploring the village of Torrelles del Llobregat with their camera lenses in search of new, funny and unusual images to help them to complete this photographic scavenger hunt. The visual adventure ended on Thursday with a digital photo workshop in which each participant chose his/her 11 favorite shots to edit under Gastavo's professional instruction.
Day 5: The Exhibition
The highlight of our experience in Can Coll was on the final day. On Friday Cre8 opened an exhibition showing all art works completed during the week with the students from Can Coll as well as showcasing the art work of other children from around the world. The students, teachers and parents were able to witness the beauty that occurs when different perspectives come together. Several classes were invited to a guided tour including an intercultural explanation of the art. Over the following days, we received so much positive feedback from parents, teachers and students as they were able to enjoy the ongoing week long exhibition.  We enjoy sharing the limitless potential of human collaboration with the kids of Can Coll and we can't wait for our next opportunity to Cre8!