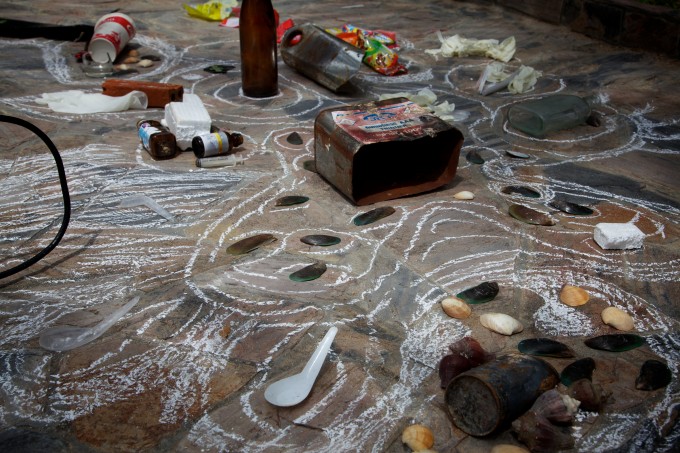 From Trash to Treasure in Thailand
Thaillywood Residential Artists and CRE8 Foundation are pleased to have recently teamed up with the ISE international school in Chonburi province, Thailand as part of their Fine Arts Festival. The idea of the collaboration was to facilitate creative dialogue between young people attending school at Nongyetjai and young people of ISE international school.
Running over two days, the children had the opportunity to create work out of found objects they collected on the beach and to get involved in two of Cre8's signature projects – Most Realistic Alien and Ping Pong painting.
Seventy children were involved in the workshop, and after a studio tour at Thaillywood, and a bit of an overview about Cre8 Foundation, the kids were shown some artworks made from trash found locally or 'found objects'. Once they were all suitably inspired it was off to Banglamung beach!
A treasure hunt commenced and the beach was cleaned up in the process. It was a busy morning so after the trash collection the group returned to Thaillywood for a delicious lunch by the pool and some time to chat about the morning's experience together.
With an interesting selection of trash to 'play' with, the afternoon was spent turning it into treasure. First up was 'The Invention Game'. This involved creating an object from the trash that does not yet exist, and then showing the others how to use the magical new invention. This of course required some imagination but there were some great ideas and a lot of laughs.
Next up was a more collaborative activity, where all the trash was organized by colour and size. Thaillywood artists drew large shapes on the ground and the kids got to 'colour in' the shapes with their newly found treasures. The end result was an impermanent piece that showcased collaboration in action and the vast potential of creativity!
So with such a successful result on day one, the kids were totally inspired for day two. Over 50 kids got involved in the Most Realistic Alien workshop at the ISE school. There were some fantastic aliens, as is always the case in a Cre8 MRA workshop!
Oil from the Thaillykids project also coordinated a Ping Pong Painting workshop with them also and the kids had the opportunity to work together to create some beautiful pieces. It was an action packed, fun filled two days for everyone!
Many thanks to ISE International School, Sheelah Murthy, Thaillywood Artist Residency and the Thailand CRE8 team for putting together such a great collaboration!