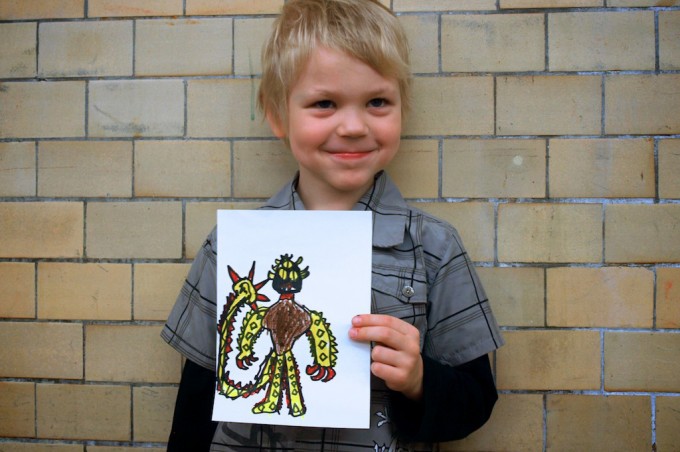 Finland finds alien life
Cre8 Foundation holds workshops far and wide, and we love to collaborate with interesting and passionate people. Maria from Finnish creative studio Flukso was our latest collaborator, running a Most Realistic Alien workshop out of the local Kellohalli library in East Helsinki. This area is an up and coming hot spot and is the place to be for all things cultural in the city – so a great location for the workshop!
Maria is an illustrator and designer, and through Flukso, has been involved in a number of collaborative art projects over the past few years. She had some help on the day in the form of good friend and social work professional Mirka Häyrynen who has great skills with kids, as she runs a children's home in Helsinki.
With great publicity before the workshop, in Finland's main newspaper 'Helsingin Sanomat' plus an interview with Maria on Radio Helsinki, it was no surprise that the workshop was bursting at the seams with enthusiastic participants. Children came with their parents but the parents got involved too! There were 2 year olds sitting next to 40 year olds and people from a range of different backgrounds.  Most of the participants were 3 – 5 years old and people wandered in and out through the 4 hours the workshop was open for. It was great to see the kids and adults all encouraging each other to draw.
The space was ideal for this workshop as there was plenty of room for people to move around, and some of the kids even made paper planes (not UFOs) which whizzed above people's heads as they sketched out their aliens.
Maria and Mirka certainly had their hands full for this one but both agree it was a lot of fun, and most importantly – a really successful collaboration.
Maria is also excited about Cre8's upcoming book project – a glossy publication of Most Realistic Alien drawings from around the world!  We will be launching a website for the Most Realistic Alien project soon – watch this space!